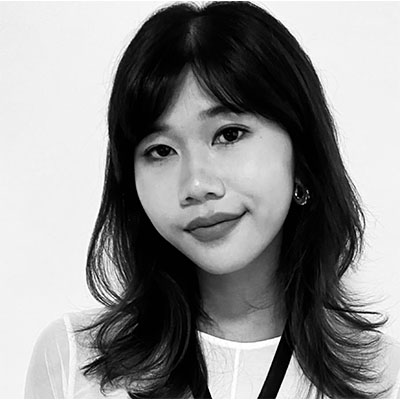 🇲🇲 Born in Myanmar (Burma) + based in 🇮🇹 Italy
Rachel Tay Za is a womenswear designer from Myanmar based in Milan, Italy. Inspired by classic feminine silhouettes and with a love for bold prints and embroidery, her graduate collection Things I used to know explores her childhood years reimagined into a world of refined glamour by mixing orthopedic elements and eveningwear such as latex flowers embroidered on fine silk jackets.
Her signature style continues to develop through exploring materials from her own personal references and trying new unconventional ways of developing textiles.
🇱🇾 Born in Libya + based in 🇮🇹 Italy
KHALIFA OMAR FARHAT is a young Bologna-based fashion designer, born in Libya in 1997 and raised between Libya and Italy until the age of 17. He developed an interest in the arts and fashion from a young age through his mother's passion for tailoring and art from his father. With the outbreak of war in Libya in 2014, Khalifa moved to Malta for a year, where he experimented with styling for photoshoots with local photographers and fashion designers, before moving permanently to Italy to pursue his creative career, graduating with a degree in product design in Perugia and most recently fashion design from the Academy of Fine Arts in Bologna.
The collection featured in this edition explores the constant dialog between the Orient and Occident. With its strong silhouettes and mix of custom and found fabrics, the collection "started as a simple way to remind ourselves of who we are and what we represent in the world, a mixed-race world full of beauty, color, music, languages, and places."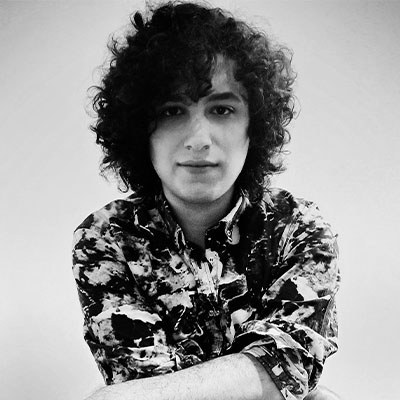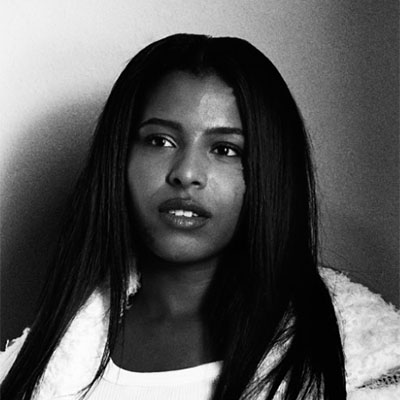 🇪🇹 Born in Ethiopia + raised in 🇮🇹 Italy
RAHEL ERCOLINI was born in Bahar Dar, Ethiopia, arriving in Italy as a child after she was adopted in 2005. She has always had a passion for art and fashion, studying figurative arts and recently graduating in fashion design from Polimoda. With its disarming layering of incisive cuts and unexpected textures, all cast in brilliant white, her debut collection reflects the nature of intimate relationships, in her words "how to lay ourselves bare by showing our fragilities which are also our own strength." Oversized garments adapt to the body, protecting but drawing attention to it, while transparent and translucent fabrics, exposed flesh, and androgynous shapes summon the wearer or viewer's personal memories from relationships, whether to joyfully relive or finally cast away.
🇮🇷 Iran + 🇸🇪 Sweden + 🇮🇹 Italy
AMINA VANNELING is pursuing studies in fashion design at Polimoda, hailing from an Iranian and Swedish background. She approaches fashion as storytelling, seeking in her words to "inspire people as I am inspired by them." Her debut collection for Afro Fashion Week disorients bodily proportions, exploring how garments can simultaneously protect and emburden the wearer. These pieces are designed to transform on the body, reconfigurable into new silhouettes, at moments taunting the boundaries between fashion and architecture. They also explore the designer's fascination with the relationship between culture and personal fashion or dress.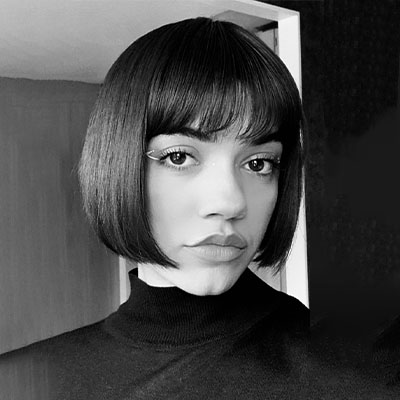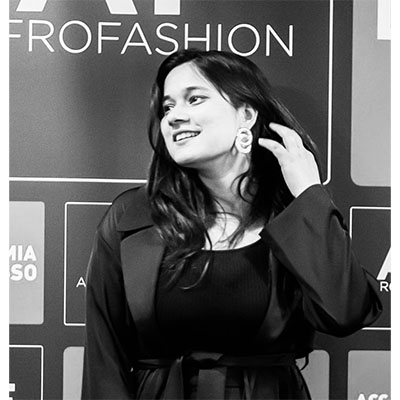 🇮🇳 Born in India + based in 🇮🇹 Italy
UDEESHA SINGH is an Indian-born Milan-based fashion designer specializing in prints and textiles. She founded her brand Almond Oct in India in 2019, before moving to Milan to broaden her experience in the industry through roles across design, trend forecasting, production, and merchandising. Her creations are a symphony of tradition and modernity, drawing inspiration from Italy's rich cultural heritage, breathtaking architecture, and the ever-changing kaleidoscope of urban life, and combining them with cultural artifacts from India. Uniquely reflective of her personal heritage and experience, each design is a meticulously crafted ode to craftsmanship, paying homage to time-honoured techniques while fearlessly embracing contemporary trends.
🇲🇦 Born in Morocco + based in 🇮🇹 Italy
Zineb Hazim, born in Morocco and raised in Italy. She acquired her passion for fashion at the age of 12 when she decided to start wearing the hijab in a completely different way.
She began her studies at a fashion institute, going on to enroll at the Burgo Institute in Milan to gain experience in the sector. To broaden her skills, she started working for herself, putting everything she studied into work. In her creations she uses different fabrics to make each garment special.
In September 2021 she became one of the Fab Five (We Are Made in Italy) collective, in partnership with CNMI. She wants to fight the prejudice against Muslim women wearing hijab and show the whole world that Muslim women can be businesswomen or anything they choose.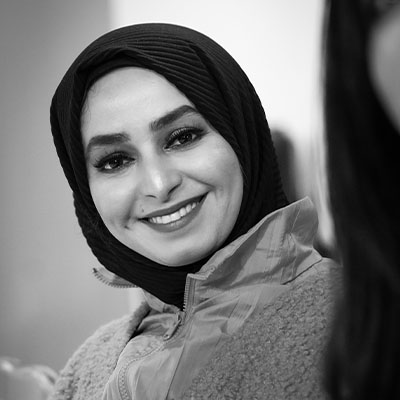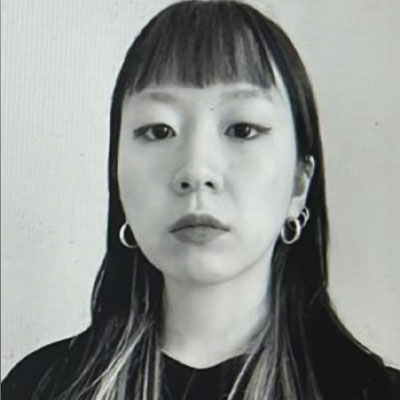 Yuna Oh shares: "My work was born from the desire to study, express and deliver the concept of 'aesthetic aesthetics.' It is characterised by the juxtaposition between male and female, romance and decadence. An immature maturity. I always see, seek and feel the extreme, the diversity in any environment. I let myself be inspired by my deepest curiosity, just looking at the smallest details. It's all contained in a spectrum, and that's why there will never be limitations, boundaries or categories within my work."
🇨🇺 Born in Cuba + based in 🇮🇹 Italy
Romy Calzado is a Cuban native fashion and textile designer, from Avana.
At the age of four she moved to Italy with her family, between Pavia and Udine, where she attended School of Art. Then she specialized in Fashion Design and CAD Modelling at Istituto di Moda Burgo in Milan.
She has also developed a passion for ethnic prints through work experience at Etro, taste for classic elegance through an internship at Musani, and several remote collaboration including a menswear label. Thanks to her work experiences, she became an enthusiastic fashion teacher of Fashion School Monza, with high aspirations for students, committed to support them to realize their learning objectives.
In September 2020 she was selected for the second edition of FAB 5 "We are Made in Italy", a project sponsored by National Chamber of Italian Fashion (CNMI), which aims to support emerging BIPOC designers for two seasons.
Her first spring / summer 2022 collection called "Unlabeled" during Fashion Week was successful thanks to the garments made of antiviral and antibacterial graphene denim, in particular the chemisier Naomi 1.5, chosen by top model Naomi Campbell for Fashion Week's events.
Romy launched her brand to express creativity, admitted feeling like an artist who can "express my feelings and emotions playing with fashion, using different silhouette and experimenting new effects." Her goal is debunk the misconception that a Caribbean designer should always tap into florals and prints, but can keep the colors and intensity of her birthplace mixing them with the charm of western aesthetic.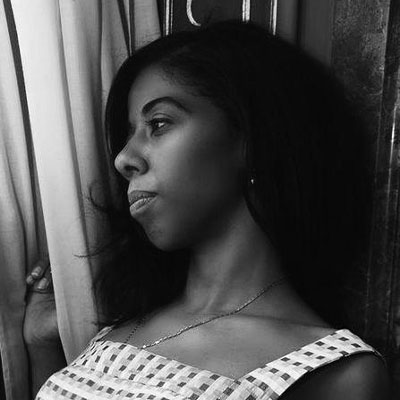 Regional Realities: Fabriqué en Africa
14.00 – 17.00
Fri. Sept. 22nd
Event free & open to the public
Explore realities from South Africa and Cameroon in this meet-and-greet event open to buyers and the public. Featuring SS/24 collections from Michael Ludwig Studio, the BAM Collective, and Refuse Clothing, as well as an upcycled denim collection from Laba Douala Free Academy of Fine Arts.